Warning: count(): Parameter must be an array or an object that implements Countable in /domeny/libraries/cms/application/cms.php on line 471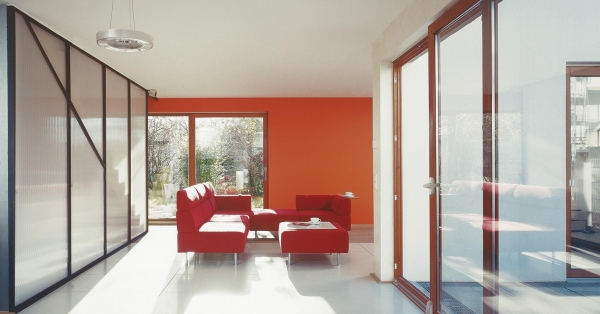 ROTO PATIO Z
ROTO PATIO Z
Okucie standardowe ze wspomaganiem do okien i drzwi uchylno-przesuwnych do 200 kg
Nasz standardowy system uchylno-przesuwny ze wspomaganiem Roto Patio Z do profili z drewna i PVC umożliwia wykonanie wielkopowierzchniowych drzwi przesuwnych o masie skrzydła do 200 kg. Wychodzi to naprzeciw upodobaniom klientów, stosujących coraz większe okna, oraz trendom rynkowym także w indywidualnym budownictwie mieszkaniowym. Okucie spełnia poza tym wymogi rozporządzenia w zakresie oszczędności energii i ciepła w odniesieniu do ciężkich skrzydeł z odpowiednimi szybami.
Bezkolizyjne otwieranie drzwi balkonowych z okuciami uchylno-przesuwnymi zamiast rozwiernych pozwala na optymalne wykorzystanie przestrzeni wnętrza, ponieważ otwarte skrzydła nie wchodzą do pomieszczenia. Nawet duże i ciężkie elementy uchylno-przesuwne na wysokość pomieszczenia dają się lekko uchylić i przesunąć na bok. W przeciwieństwie do Roto Patio S wariant Roto Patio Z wyposażony jest w zintegrowany mechanizm wspomagający otwieranie lub zamykanie skrzydła podczas obrotu klamki – dzięki niemu nie ma potrzeby odciągania lub dociskania dużych i ciężkich skrzydeł podczas obsługi.
Drzwi uchylno-przesuwne tworzą komfortowe wyjście na taras, balkon, przejście do ogrodu zimowego lub przeszklonych przybudówek. W mniejszym rozmiarze – jako uchylno-przesuwne okno – rozwiązanie to znakomicie zdaje egzamin w kuchni, w pokoju pracy czy też w biurze.
Przeznaczone do
Systemów uchylno-przesuwnych z profili drewnianych i PVC
Patio 160 Z:


masa skrzydła do 160 kg
szerokość skrzydła na wrębie 720-2000 mm
wysokość skrzydła na wrębie

Patio 200 Z:


masa skrzydła do 200 kg
szerokość skrzydła na wrębie 1050-2000 mm
wysokość skrzydła na wrębie 900-2700 mm